Sustainability.
Now a priority.
Ecobean is a technology company with a mission to help reduce coffee waste at the scale of business. We're looking for partners in finding new and innovative ways to upcycle Spent Coffee Grounds into something new that later can be recycled, so the loop doesn't end.
Reach out and reimagine your CO2 footprint with us.
EXPLORE PROJECTS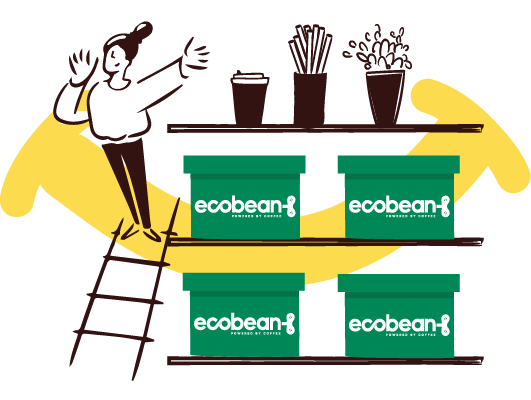 Biodiesel with a
drop of coffee oil
PRIO is a Portuguese distributor of biodiesel and liquid fuels. EcoBean invented a technology that extracts an oil fraction from coffee grounds that can be used as a bio-additive for fuels.
We helped PRIO find a way to manage coffee waste from gas station mini-markets ecologically and address the need to add renewable sources into fuels. The solution enables better waste collection and addresses the RED II directive.
Biodegradable
flower pots
EcoBean invents biodegradable flower pots for a Polish company ECONTI. These 100% biodegradable pots are made predominantly out of coffee grounds. After planting into the ground, they integrate with the soil, positively affecting the natural environment around the plant. Also, thanks to the unique technology, flowerpots degrade slowly, giving the plants enough time to grow.
Coffee waste
in R&D
Starbucks mission is to be as ecologically responsible as possible, giving back more than it takes from the planet. To help support this goal, EcoBean collects Spent Coffee Grounds (SCG) from Starbucks cafes for R&D works focused on the possibilities of their re-use and processing into ecological raw materials and products. Our approach meets the European strategy of plastic reduction and circular economy introduction.
Coffee waste
collection service
Delta is committing to business excellence based on eco-efficient production, training of employees for change and developing competitive communities. Its new product development cycle is based on eco-efficiency and eco-design principles, seeking to promote sustainability at the origins, reduce inefficiencies in the production process and reduce and recover the waste produced.
EcoBean works with Delta to design, implement and verify the dedicated Spent Coffee Grounds (SCG) collection service for HoReCa in Lisbon. Two logistic models are to be evaluated: door-to-door collection and SCG collection islands (collective SCG collection containers).
Sustainable
waste utilization
Vattenfall's mission is to Power Climate Smarter Living and to enable fossil-free living within one generation. Vattenfall strategy reflects the UN Sustainable Development goals. In June 2022 Vattenfall in Germany will be moving to its new headquarters – EDGE Suedkreuz building – a modular wood-hybrid construction designed as an open ecosystem using nature-based architectural elements.
EcoBean will collect and repurpose all the coffee waste (Spent Coffee Grounds – SCG) generated in the EDGE Suedkreuz building. A circular solution will be implemented in the building by designing SCG composite which will be used for the production of objects used by Vattenfall employees.
Together with EDGE and Vattenfall, EcoBean wants to develop a "copy & paste" solution dedicated to the German real estate market.
Going green
with eco gadgets
Żabka puts its focus on four pillars: green energy, second life, clean air and green transport. Żabka is implementing circular economy principles by encouraging customers to give the packaging a second life.
EcoBean developed a biotechnological solution that gives spent coffee grounds, produced at Żabka Café, a second life. The plan is to turn them into useful eco-gadgets and return them to customers.
Help us reinvent coffee waste!
Cup after cup, after cup…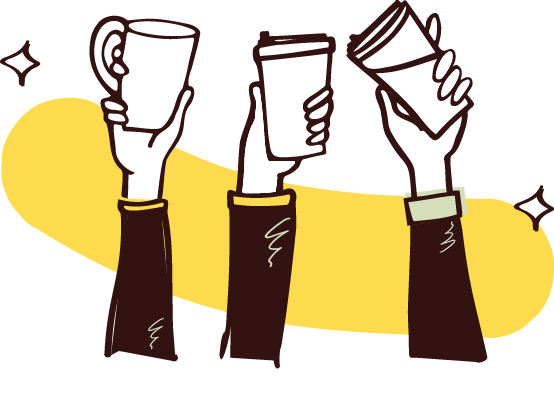 Are you the savvy investor looking to get behind a future-proof technology and innovative products? Want to become an EcoBean coffee products retailer?
Are you a coffee serving point looking for sustainable, reliable and cost-effective coffee waste disposal service? Want to join our CSR program?
Want to fuel your fireplace, stove or bbq with our eco-friendly, high-performing Coffee Logs? Sign up to get notified when Coffee Briquettes will be in stock.

R&D
Koszykowa 75
00-662 WARSAW
Office
Chmielna 73
00-801 WARSAW